Last Updated on December 2, 2021 by Spynaija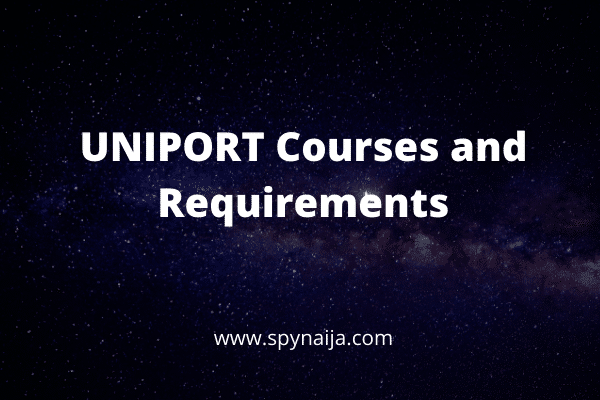 A Brief History About UNIPORT
The University of Port-Harcourt, UNIPORT as it is fondly called is an internationally recognized Nigerian university located in Port Harcourt, Rivers State, Nigeria. UNIPORT was first established as a University College in 1976 and was given a University status in 1977. UNIPORT offers various undergraduate courses/programs.
The University of Port-Harcourt, UNIPORT courses are fully accredited and recognized by the National University Commission (NUC) a body overseeing tertiary institutions in Nigeria.
We recently made a list of less competitive courses in UNIPORT, you can find it HERE
Read Also: 
UNIPORT Admission Requirements
Candidates must have reached the age of 16.
Candidates must score at least 180 in the JAMB UTME examination.
Applicants must acquire at least 5 credits (English and Mathematics inclusive) in their O'level result. O'level results can be either WAEC, NECO, GCE or NABTEB results.
UTME candidates must also participate in the university's POST-UTME screening if the examination is conducted.
Candidates must choose the University of Port Harcourt (UNIPORT) their first choice of institution. Second choice candidates will also be considered for admission.
Would you like to know a list of all accredited UNIPORT courses and their requirements you can enrol in? Below is a list of all the accredited UNIPORT courses and requirements you need to look out for.
UNIPORT Courses and Requirements:
Below are all the accredited UNIPORT Courses and Requirements, kindly click on any of the courses you wish to apply for to see the UTME subject, Direct Entry, and O'Level requirements for the course.
Adult and Non-Formal Education
Animal and Environmental Biology
Education and Accountancy
Education Arts
Education Foundations and Management
Education/Fine Art
Educational / Psychology Guidance and Counselling
Electronics Engineering
Environmental Engineering
Environmental Technology
Fine Arts and Design
Geography and Environmental Management
Human Kinetics and Health Education
Linguistic and Nigerian Languages
Linguistics and Communication Studies
Physical Education
Physics with Electronics
Plant Science and Biotechnology
Political and Administrative Studies
Primary Education Studies
Pure and Applied Mathematics
Pure and Industrial Chemistry
Religious and Cultural Studies
Science Education
If you have found your desired course, you can enrol in the UNIPORT's Bachelor's degree programs either through the Unified Tertiary Matriculation Examination (UTME), by Direct Entry, or through the Pre-degree Programme.
Basically, the purpose of the entry requirement is to ensure that those admitted have the necessary preparedness to scale through the program. There is a compulsory screening test for all eligible candidates.
Conclusion
In this article, we provided the official UNIPORT Courses and Requirements, UNIPORT Admission Requirements and other valuable information for prospective applicants. Has this article provided answer(s) to your query? if yes, leave a comment in the comment box to express your satisfaction or ask any question you have and we will reply to you as soon as possible.
If you think this post might be useful for others, please kindly share it on Twitter, Facebook, WhatsApp, or send an email to friends. There are Buttons available for that below and they are very easy to use!