Last Updated on August 25, 2021 by Spynaija
To study Physical Education in any NUC accredited university or polytechnic in Nigeria, here are the JAMB and WAEC subject combination and requirements you need to look out for.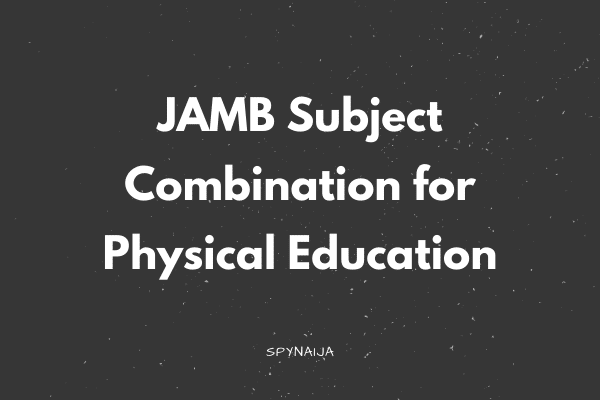 Physical Education is one of the most sought-after courses in any Nigerian university. Therefore, knowing the conditions and the required subjects will help you and give you a proper guide to applying for it without any problem. It further helps you avoid unnecessary mistakes.
Please carefully read all the requirements and terms of registration and the JAMB Subject Combination for Physical Education before proceeding to apply/register for either the UTME or DIRECT ENTRY for the said course.
Read Also: 
This article covers the following:
WAEC Requirements for Physical Education
JAMB Subject Combination for Physical Education
Direct Entry Requirements for Physical Education
UTME Requirements for Physical Education
Plus any other useful information you may need that will ease your registration process.
JAMB UTME Requirements for Physical Education
Note that English Language is Compulsory for all courses in UTME.
JAMB Subject Combination for Physical Education  
Biology and any two(2) relevant subjects
Direct Entry Requirements for Physical Education  
Two (2) A-Level passes in any of Biology, Chemistry, Physics and Mathematics.
NCE merit in Physical Education and credit in Arithmetical process or Mathematics.
Diploma in Health Education, Environmental Sanitation, Physical Education, Social work, Health Administration with overall grades of Merit plus three (3) O Level credit passes/TC II merit which should include English Language.
NCE in Biology, Health Education, and Integrated Science with a passing grade plus two (2) O Level credit passes/TC II merit passes.
Registered Nurse plus five (5) O Level credit passes to include English Language.
WAEC Requirements for Physical Education  
Interested applicants must acquire a minimum of at least five (5) WASSCE Credit passes to include; English Language, Biology or its equivalent.
NOTE: Please Kindly make reference to JAMB Brochure for SPECIAL CONSIDERATION AND WAIVER REMARKS by various universities for Physical Education. KINDLY CLICK HERE TO ACCESS THE JAMB BROCHURE. You can as well download the JAMB Brochure if you want, IT'S COMPLETELY FREE.
Universities Offering Physical Education
Below are all the accredited institutions offering Physical Education in Nigeria. Kindly click on any of the universities you wish to apply for to see their requirements for Physical Education and other courses.
You can enrol in the Bachelor's degree programs for this course through the Unified Tertiary Matriculation Examination (UTME), Direct Entry, or the Pre-degree Programme.
Basically, the purpose of the entry requirement is to ensure that those admitted have the necessary preparedness to scale through the program. There is a compulsory screening test in some of these universities for all eligible candidates.
Conclusion
In this article, we provided the JAMB Subject combination for Physical Education and some valuable information for prospective applicants. Has this article provided answer(s) to your query? if yes, leave a comment in the comment box to express your satisfaction or ask any question you have and we will reply to you as soon as possible.
If you think this post might be useful to others, please kindly share it on Twitter, Facebook, WhatsApp, or send an email to friends. There are Buttons available for that below and they are very easy to use!