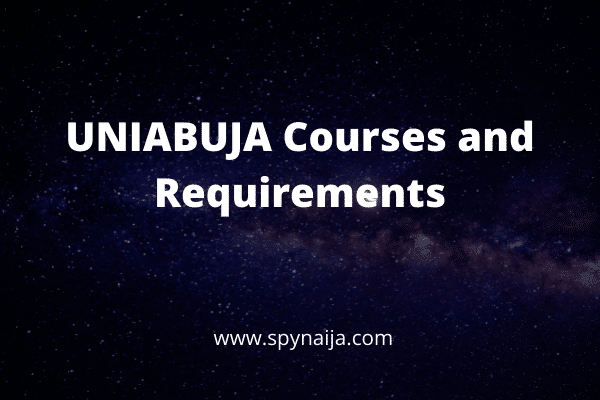 The University of Abuja, Abuja Nigeria (UNIABUJA) is a globally recognized Nigerian university located in Abuja, the country's capital, UNIABUJA is owned and managed by the Nigerian federal government.
The University of Abuja, UNIABUJA was established on January 1, 1988 (under Decree No. 110 of 1992 as amended) as a dual-mode university with the mandate to run conventional and distance learning programmes. Academic programmes began in the University in 1990 with the matriculation of its pioneer students.
UNIABUJA currently operates from both its Main Campus, in Giri, along Abuja Airport Road, and the Mini – Campus in Gwagwalada.
UNIABUJA Courses are fully accredited and recognized by the National University Commission (NUC) a body overseeing all tertiary institutions (Universities) in Nigeria.
Would you like to know a list of all UNIABUJA courses and requirements you can enrol in? Below is a list of all the accredited courses offered at the University of Abuja (UNIABUJA).
UNIABUJA Courses and Requirements:
Below are all the accredited UNILAG Courses and Requirements, Kindly click on any of the courses you wish to apply for to see the UTME subject, Direct Entry, and O'Level requirements for the course.
Arabic Studies
Education and Arabic
Education and English Language And Literature
Education and Social Studies
Educational Management and Planning
Environmental Education
Political Science and International Relations
Primary Education Studies
If you have found your desired course, you can enrol in the Bachelor's degree programs through the Unified Tertiary Matriculation Examination (UTME), Direct Entry, or through the Pre-degree Programme.
Basically, the purpose of the entry requirement is to ensure that those admitted have the necessary preparedness to scale through the program. There is a compulsory screening test for all eligible candidates.
Click here to visit UNIABUJA's official website
RECOMMENDED TOPICS;
Top 10 Oldest Universities In Nigeria
If you think this post might be useful for others, please kindly share it on Twitter, Facebook, WhatsApp, or send an email to friends. There are buttons available for that below and they are very easy to use!