Last Updated on November 23, 2021 by Spynaija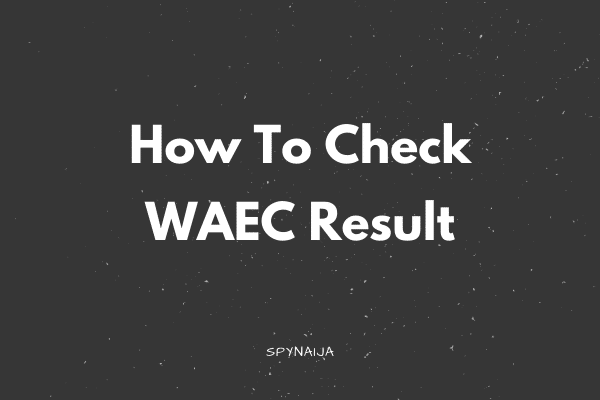 This is to inform the general public and also candidates who took part in the 2021 May/June West African Senior School Certificate Examination (WASSCE) that the results of the afore-mentioned examination has been released, and has been made available online. Candidates can access their results through the body's portal. In this article, we have outlined a step-by-step guide on how to check the 2021 WAEC result on your phone.
Read Also:
The West African Examinations Council (WAEC) is West Africa's foremost examining body established by law in 1952 to determine the examinations required in the public interest in the English-speaking West African countries, to conduct the examinations and to award certificates comparable to those of equivalent examining authorities internationally.
How Can I Check My WAEC Result Using Phone?
This is for candidates who prefer to check their WAEC results on phone. To check your WAEC result using your phone, kindly follow the steps below. Candidates are hereby advised to strictly adhere to the format below.
Simply scroll to your message app, and type;
WAEC*ExamNo*PIN*ExamYear,
Send the above details as an SMS to 32327.
For example: WAEC*3240102001*123456789012*2021
Kindly ensure that there is no space in the message. After sending the SMS, wait for your result to be delivered to your phone via SMS.
Kindly note that a service charge of ₦30 is applicable to each SMS. 
WAEC FAQs  
These are some of the most frequently asked questions and best possible answers for candidates who took part in the West African Senior School Certificate Examination (WASSCE). Kindly go through them thoroughly as they would be very useful in helping you answer some pressing questions and every other information you need to know.
| | |
| --- | --- |
| WAEC FAQs  | ANSWERS |
| Where can I buy the WAEC scratch card? | The WAEC Scratch card can be purchased at the WAEC's National Office and at any of its zonal and branch offices across West Africa. The scratch card can also be bought from any of the branch offices of Fountain Trust Bank Plc across Nigeria. From time to time it may become available at any other outlets so designated by WAEC. According to the WAEC website, the reviewed price for the Scratch card is currently around ₦450. |
| How many times can I check my WAEC result? | You can check your result up to a maximum of 5 (five) times with the use of 1 (one) Scratch card. In order to check further after exhausting the allowed 5 (five) times, you will need to purchase another Scratch card which will entitle you to another 5 (five) result checks. |
| Can I use one scratch card to check more than one result? | No! You can only use one Scratch card to check one result. To check another result of interest, you will require a new Scratch card. If you misuse a Scratch card by attempting to check another result different from the first one, you will be penalised as having used the card and will be presented with the appropriate error message. |
| I have been trying to check my result through the WAEC website, but it is not loading, what do I do? | Please be informed that it could either be your internet connection that is not connecting properly or as a result of the high traffic to the WAEC result checking portal. We advise you to give it some time before trying again. www.waecdirect.org |
| I went to the WAEC portal and fill out the required details only to see a page telling me there is no result for the candidate in the specified year. Please what do I do? | We advise you to keep checking at intervals because the website may be updated subsequently or visit the nearest WAEC office for assistance. |
| My result is displaying outstanding. What do I do as I need it for admission? | Kindly note that results that are partially released i.e. (outstanding/held) can be traced to various issues.  The decision on the "Outstanding/Held" results is subject to the outcome of the Council's investigation. You can keep checking the portal for updates. |
| Can the result checker card bought in the previous year be used to check the result of the current year? | A scratch card purchased in a previous year is still valid for use in the next year but note you can only use one Scratch card to check one result. To check another (different) result, you will require a new Scratch card. |
| | |
| --- | --- |
| Can a candidate's gender be corrected? | Kindly proceed to the nearest WAEC office to make corrections to information erroneously provided by you in the course of your registration. |
Conclusion;
Above is the complete guide on how to check WAEC result using your phone, still having difficulties checking your WAEC result using your phone? Kindly leave us a comment in the comment section stating the issues you're facing we will be glad to help you with any other information to assist you further.
If you think this post might be useful to others, please kindly share it on Twitter, Facebook, WhatsApp, or send an email to friends. There are Buttons available for that below and they are very easy to use!