Last Updated on March 20, 2021 by Spynaija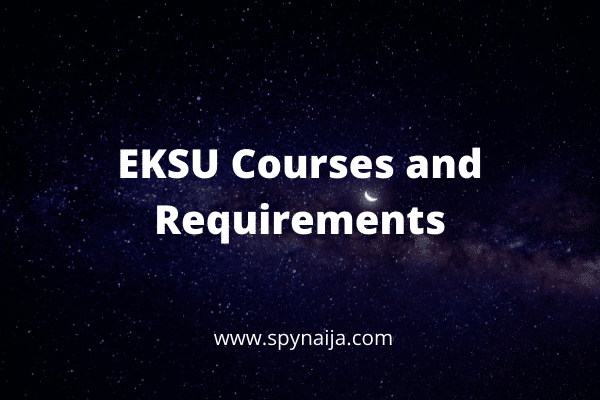 The Ekiti State University, EKSU is owned and managed by the government at the state level. EKSU is located in Ado Ekiti, Ekiti State, Nigeria. Ekiti State University offers various undergraduate courses/programs.
The Ekiti State University (EKSU) courses are fully accredited and recognized by the National University Commission (NUC) a body overseeing all tertiary institutions (Universities) in Nigeria.
Would you like to know a list of EKSU courses and their requirements you can enroll in? Below is a list of all NUC accredited EKSU courses and requirements you need to know.
EKSU Courses and Requirements:
Kindly click on any of the courses you wish to apply for to see the UTME subject, Direct Entry, and O'Level requirements for the course.
Adult Education.
Agric-Economics And Extension.
Agricultural Science And Education.
Animal Production And Health Services.
Biological Sciences.
Cooperative And Rural Development.
Crop Soil And Environmental Science.
Education And Accountancy.
Education And Computer Science.
Education And Mechanical And Automechanic Technology.
Education And Political Science.
Education And Science.
Education And Social Studies.
Education Foundations And Management.
Education Technology.
Educational Management.
Educational Management And Planning.
Electrical/Electronics Education.
English And Literary Studies.
Entrepreneurship.
Environmental Management.
Fisheries.
French.
Geography.
Geography And Planning Science.
Geophysics.
Human Kinetics And Health Education.
Industrial Chemistry.
Industrial Relations And Personnel Management.
Industrial Technical Education.
Insurance.
Mathematics /Statistics Education.
Nursery And Primary Education.
Physical And Health Education.
Plant Science And Forestry.
Pure Chemistry.
Religious Studies.
Science Laboratory Technology.
Theatre Arts.
Tourism Studies.
Vocational And Technical Education.
You can enroll in the Bachelor's degree programs for this course either through the Unified Tertiary Matriculation Examination (UTME), by Direct Entry, or through the Pre-degree Programme.
Basically, the purpose of the entry requirement is to ensure that those admitted have the necessary preparedness to scale through the program. There is a compulsory screening test for all eligible candidates.
Kindly click here to visit EKSU's Official website
If you think this post might be useful for others, please kindly share it on Twitter, Facebook, WhatsApp, or send an email to friends. There are Buttons available for that below and they are very easy to use!