Last Updated on September 13, 2023 by Spynaija
HTTrack Website Copier is a powerful and open-source tool that allows you to download and mirror entire websites for offline use. Whether you want to create a local copy of your website or need to archive online resources for reference, HTTrack is a versatile solution. In this guide, we'll walk you through the steps to effectively use HTTrack to mirror websites.
Step 1: Download and Install HTTrack
1. Visit the official HTTrack website
2. Download the appropriate version of HTTrack for your operating system (Windows, Linux, or macOS).
3. Follow the installation instructions provided during the setup process.
Step 2: Launch HTTrack
After installing HTTrack, launch the program. You will see the main interface with various options for configuring your website copying project.
Step 3: Create a New Project
1. Click on the "Next" button to start a new project
.
2. Enter a name for your project and choose a directory on your computer where you want to save the downloaded website.
Step 4: Set Your Preferences
HTTrack offers a wide range of customization options to tailor the website copying process to your needs. Here are some key settings:
Action: Select "Download web site(s)" to create a local copy of a website.
Web Addresses: Enter the URL of the website you want to copy in the "Web Addresses" box.
Set Options: Click the "Set Options" button to configure advanced settings. You can define download limits, set filters to include or exclude specific file types or URLs, and adjust the maximum depth of the mirror.
Click Next to go to the final stage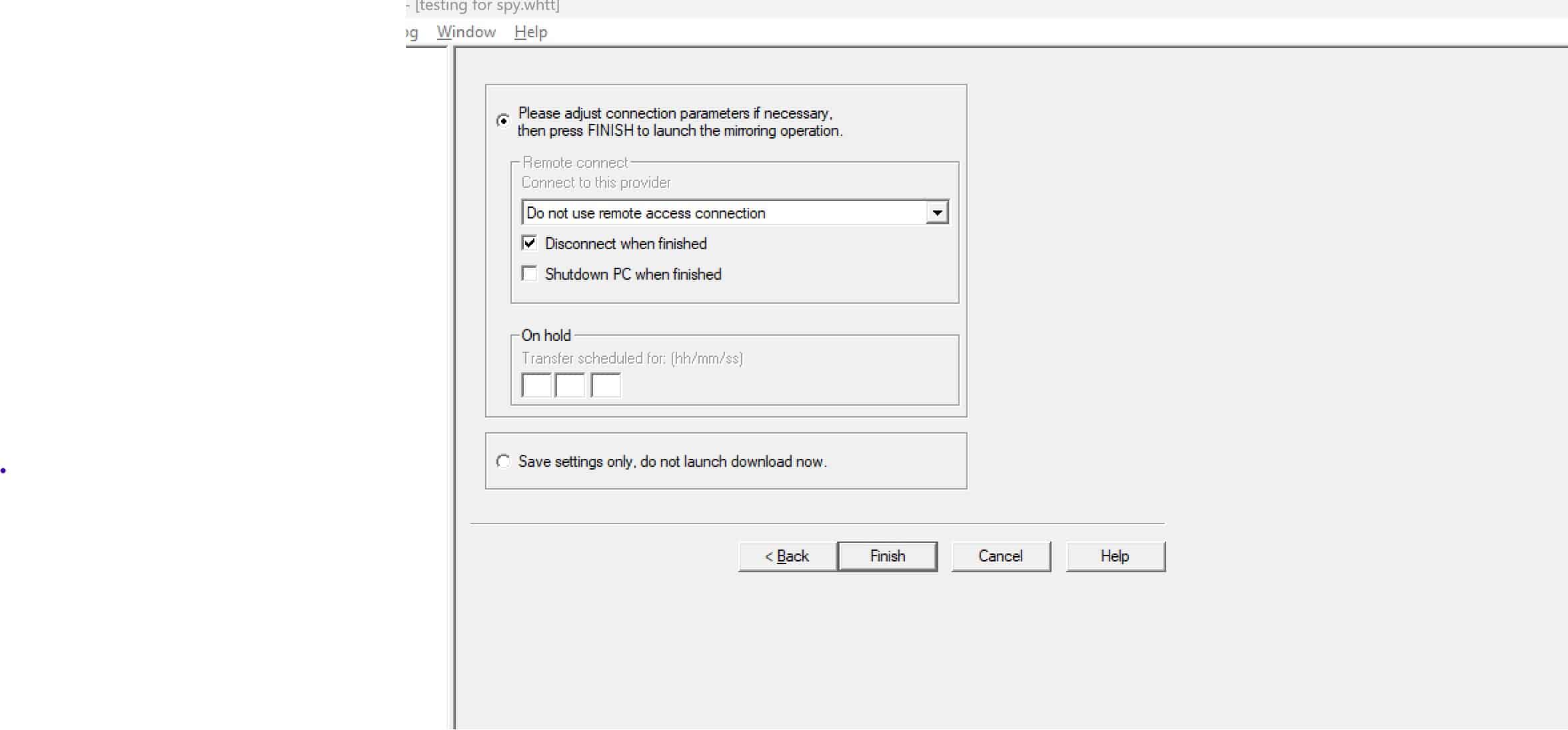 Make sure you select disconnect when finish. You don't want your computer to still be connected after. you can also select other options on the HTTrack
Step 5: Start the Mirroring Process
Click the "Finish Button" button to initiate the mirroring process. HTTrack will begin downloading the website's files, including HTML pages, images, CSS, JavaScript, and other assets. The progress will be displayed in the console window.
Step 6: Monitor the Download
HTTrack provides a real-time log of the downloading process, including the number of files downloaded and any errors encountered. You can pause or stop the download at any time if needed.
Step 7: Explore Your Mirrored Website
Once the download is complete, navigate to the directory where you specified the project to be saved. Inside, you'll find a folder containing all the mirrored website's files and directories. Open the "index.html" or the main HTML file to browse the website offline.
Tips for Efficient Website Mirroring
Use Filters: Experiment with filters to include or exclude specific file types or URLs. This can help you download only the content you need.
Set Download Limits: Adjust the maximum download speed or the number of connections to avoid overloading the website's server.
Update Your Mirrored Copy: Periodically update your mirrored copy to ensure it stays current.
Frequently Asked Questions (FAQs)
How do I update my mirrored copy of a website?
Can I mirror password-protected websites with HTTrack?
HTTrack is designed for copying publicly accessible websites. It cannot mirror password-protected sites unless you have the necessary login credentials.
Is HTTrack legal to use?
Yes, HTTrack is legal to use for personal purposes. However, it's important to respect copyright and intellectual property rights when mirroring websites. Be sure you have the right to download and use the content you are copying.