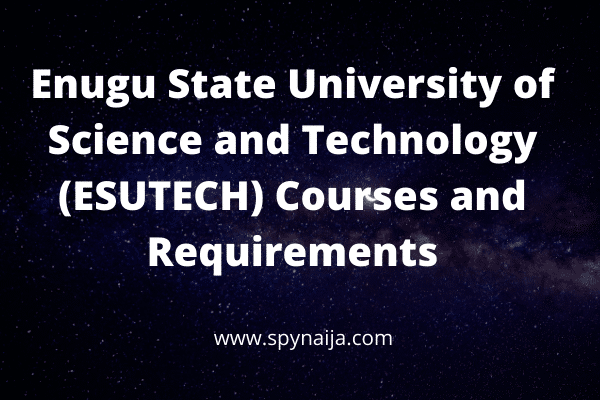 Enugu State University of Science and Technology, often called (ESUTECH), is owned and managed by the government at the state level. ESUTECH is located in Enugu, Enugu State, Nigeria. ESUTECH offers various undergraduate courses/programs
Enugu State University of Science and Technology courses are fully accredited and recognized by the National University Commission (NUC), a body overseeing all tertiary institutions (Universities) in Nigeria.
Would you like to know a list of ESUTECH courses and requirements you can enroll in? Listed below is a list of all NUC accredited courses offered at the Enugu State University of Science and Technology.
ESUTECH Courses and Requirements
Kindly click on any of the courses you wish to apply for to see the UTME subject, Direct Entry, and O'Level requirements for the course.
Adult Education

Agric-Economics And Extension

Agricultural Science And Education

Agronomy

Anatomy

Applied Biology

Applied Microbiology

Biology

Building And Woodwork Technology Education

Cooperative And Rural Development

Education /Mechanical Technology

Education And Computer Science

Educational Administration And Supervision

Educational Foundations

Educational Management

Electrical/Electronics Education

Geography And Meteorology

Geology And Mining

Industrial Chemistry

Insurance And Risk Management

Mathematics And Statistics

Mechanical/Production Engineering

Physical And Health Education

Sociology And Anthropology

Technology And Vocational Education
Click here to visit ESUTECH's official website
If you think this post might be useful for others, please kindly share it on Twitter, Facebook, WhatsApp, or send an email to friends. There are Buttons available for that below, and they are very easy to use!